Top 100 cited articles on ankylosing spondylitis
Abstract
Ankylosing spondylitis is a global health problem. There are continuous innovations in terms of etiopathogenesis, diagnosis, and treatment. Here, the top 100 most cited articles on ankylosing spondylitis during the last three decades are analyzed. On April 6, 2020, the Web of Science was screened from 1984 to 2020 using the terms ankylosing spondylitis; the top 100 most cited articles were identified. For bibliometric analysis, the name of the article, year of publication, author information, number of citations, name of the publishing journal, H-index, impact factor, countries of the authors, types of articles, and funding sources were recorded. The Altmetric attention was recorded using a program that automatically calculates the score. The total number of citations of the articles in the list ranged from 176 to 3700. Arthritis and Rheumatism (n=31) and Annals of the Rheumatic Diseases (n=27) were the two leading journals in which the majority of the articles were published. Germany produced most of the articles; Braun J was the most cited author. Randomized controlled clinical trials were found to constitute most of the articles (n=35). According to the citation number, studies evaluating classification criteria and disease activity indices and, according to the Altmetric Attention Score, studies addressing the prevalence and biological agents were prominent. We present a perspective on the extent to which the most cited articles on ankylosing spondylitis draw interest in the scientific community and on social media platforms.
Downloads
Download data is not yet available.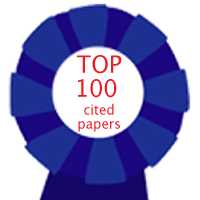 Info
Keywords:
Ankylosing spondylitis, bibliometric analysis, Altmetrics, rheumatic disease.
Statistics
Abstract views:

349



PDF:

168
How to Cite
Bagcier, F., Yurdakul, O., & Ozduran, E. (2021). Top 100 cited articles on ankylosing spondylitis. Reumatismo, 72(4), 218-227. https://doi.org/10.4081/reumatismo.2020.1325
Copyright (c) 2020 the Author(s)
This work is licensed under a Creative Commons Attribution-NonCommercial 4.0 International License.