Measurement of serum interferon alpha in Egyptian patients with systemic lupus erythematosus and evaluation of its effect on disease activity: a case-control study
A. Fayed

Nephrology unit, Internal Medicine Department, Kasr Alainy School of Medicine, Cairo University, Egypt.

https://orcid.org/0000-0002-6041-4016

M.M. El Menyawi

Rheumatology and Clinical Immunology unit, Internal Medicine Department, Kasr Alainy School of Medicine, Cairo University, Egypt.

M. Ghanema

Rheumatology and Clinical Immunology unit, Internal Medicine Department, Kasr Alainy School of Medicine, Cairo University, Egypt.

O. Shaker

Medical Biochemistry and Molecular Biology, Kasr Alainy School of Medicine, Cairo University, Egypt.

https://orcid.org/0000-0002-3031-3599
R. Elgohary | rasmiaelgohary@kasralainy.edu.eg

Rheumatology and Clinical Immunology unit, Internal Medicine Department, Kasr Alainy School of Medicine, Cairo University, Egypt.

https://orcid.org/0000-0002-4002-1485
Abstract
Much evidence highlighted the role of interferon alpha (IFN-α) in systemic lupus erythematosus (SLE) and suggested its possible role in assessing disease activity. We measured serum IFN-α in Egyptian SLE patients in order to determine a cutoff value that can be used to distinguish patients from healthy controls and explored its clinical value in monitoring disease activity and different aspects of the disease, in particular lupus nephritis. This cross-sectional, case-control study was conducted on 59 SLE patients and 30 healthy controls. Serum IFN-α was measured in all participants using sensitive enzyme-linked immunosorbent assay (ELISA). SLE patients underwent assessment of disease activity using the SLE disease activity index-2000 (SLEDAI-2K) as well as an evaluation of proteinuria, complement C3 and C4, and serology. Patients with evidence of renal involvement underwent renal biopsy. The median serum IFN-α was 81.8 pg/mL (interquartile range [IQR] 63.4:102.4), which was significantly higher than in healthy controls (median 10.3 pg/mL [IQR 7.3:11.6]) (p<0.001). At serum level of 14.7 pg/mL, IFN-α has high sensitivity and specificity to discriminate SLE patients from controls, with high positive and negative predictive values. Serum IFN-α was not associated with markers of disease activity, clinical features and anti-double stranded DNA. Furthermore, it was not associated with markers of renal activity, including proteinuria, C3 and C4 complement factors and histopathology renal classes. Despite elevated levels of serum IFN-α in SLE patients, it is not possible to use it as a biomarker for disease activity.
Downloads
Download data is not yet available.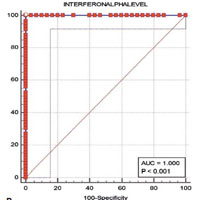 Info
Keywords:
Systemic lupus erythematosus, lupus nephritis, interferon alpha (IFN-α).
Statistics
Abstract views:

288



PDF:

151
How to Cite
Fayed, A., El Menyawi, M., Ghanema, M., Shaker, O., & Elgohary, R. (2020). Measurement of serum interferon alpha in Egyptian patients with systemic lupus erythematosus and evaluation of its effect on disease activity: a case-control study. Reumatismo, 72(3), 145-153. https://doi.org/10.4081/reumatismo.2020.1308
Copyright (c) 2020 the Author(s)
This work is licensed under a Creative Commons Attribution-NonCommercial 4.0 International License.