The clinical manifestations at the onset of antisynthetase syndrome: A chameleon with multiple faces
Abstract
The antisynthetase syndrome (ASS) is clinically characterized by fever, myositis, interstitial lung disease, joint involvement, mechanic's hands, or Raynaud's phenomenon, and the presence of antisynthetase autoantibodies. These clinical manifestations may not occur simultaneously. Therefore, the aim of this study was to analyze the sequence in which these clinical manifestations can develop at the onset of ASS. This retrospective, single-center cohort study enrolled 55 ASS patients. Their mean age at the onset of ASS symptoms was 42.3±11.8 years. There was a predominance of female patients (75.9%) and white patients (72.7%). At initial presentation, 41.8% of the patients had fever, 43.6% had joint symptoms, 38.2% had myositis, 36.4% had interstitial lung disease, 18.2% had Raynaud's phenomenon, and 16.4% had mechanic's hands. Subsequent clinical symptoms emerged at varying time points. In two out of 55 cases, joint, muscle, and lung manifestations developed simultaneously. The median time between the onset of symptoms and the complete ASS clinical manifestation was 19.9 (4.0-60.2) months; whereas, the timeframe between the onset of symptoms and the ASS diagnosis was 29.0 (11.0-63.0) months. The confounding misdiagnoses interfering with the initial diagnosis were polymyositis (52.7%), dermatomyositis (29.1%), nonspecific interstitial pneumopathy (23.6%), rheumatoid arthritis (18.2%), and others (10.9%). Clinical features at the onset of ASS are highly variable. Consequently, confounding factors can lead to significant delays for the final and definitive diagnosis of ASS. Therefore, ASS should be considered a differential diagnosis in patients with initial symptoms of joint, lung, and/or muscle involvements, as well as fever, mechanic's hands, and/or Raynaud's phenomenon manifestations.
Downloads
Download data is not yet available.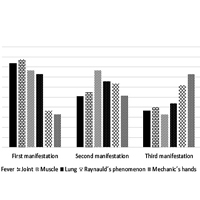 Info
Keywords:
Antisynthetase syndrome, clinical manifestations, myositis, systemic autoimmune myopathies
Statistics
Abstract views:

425



PDF:

286
How to Cite
Baccaro, A., Behrens Pinto, G., Carboni, R., & Shinjo, S. (2020). The clinical manifestations at the onset of antisynthetase syndrome: A chameleon with multiple faces. Reumatismo, 72(2), 86-92. https://doi.org/10.4081/reumatismo.2020.1275
Copyright (c) 2020 the Author(s)
This work is licensed under a Creative Commons Attribution-NonCommercial 4.0 International License.