Hand dominance in early and established rheumatoid arthritis: evaluation by dynamometer, Ritchie index and musculoskeletal ultrasound: a cross sectional study
A.M. Elsaman | ahmed_elsaman@med.sohag.edu.eg

Associate Professors of Rheumatology, Department of Rheumatology and Rehabilitation, Sohag University Hospital, Sohag University, Sohag, Egypt.

https://orcid.org/0000-0001-5759-2009

A. Sayed

Consultant of Pain Management, Armed Forces Specialized Center of Rehabilitation, Altaif, Saudi Arabia.

A.R. Radwan

Associate Professors of Rheumatology, Department of Rheumatology and Rehabilitation, Sohag University Hospital, Sohag University, Sohag, Egypt.

https://orcid.org/0000-0003-0438-1384
Abstract
Rheumatoid arthritis (RA) usually occurs as a symmetrical disease, which mainly affects the small joints of the hands and feet. The correlation of handedness with radiological changes shows significantly greater radiological changes in the dominant hand than in the non-dominant one. Additionally, the dominant hand is more severely affected in terms of strength, function and deformity. Our objective is to evaluate the influence of handedness on musculoskeletal ultrasound (US), Ritchie articular index (RAI) and digital dynamometer findings in patients with active RA (early, group B, vs. established, group A). A total number of 113 patients with established RA and 44 patients with early RA with active disease (DAS28-ESR >3.2) were included in the study. US assessments of both hands were performed to assess synovitis, tenosynovitis, and erosions. RAI was used to evaluate three joint groups in each hand. Handgrip strength was measured with a digital dynamometer. The US5 score showed that the dominant hand was more affected than the non-dominant one. This was significant in group A for the synovitis Power Doppler (PD) mode (p=0.032) and tenosynovitis PD (p=0.005) scores, and in group B for synovitis Grey Scale (GS) mode (p<0.001), synovitis PD (p=0.037) and erosions (p=0.027) scores. RAI was significantly higher in the dominant hand (p=0.013) in group A and even greater in group B (p=0.011). The dominant hand was stronger than the non-dominant hand in both groups. The dominant hand is generally affected in early RA. Subsequently, the disease tends to become more symmetrical with disease progression.
Downloads
Download data is not yet available.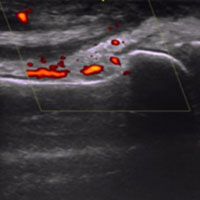 Info
Keywords:
Rheumatoid arthritis, early, established, hand dominance, ultrasound.
Statistics
Abstract views:

345



PDF:

178
How to Cite
Elsaman, A., Sayed, A., & Radwan, A. (2020). Hand dominance in early and established rheumatoid arthritis: evaluation by dynamometer, Ritchie index and musculoskeletal ultrasound: a cross sectional study. Reumatismo, 72(3), 131-144. https://doi.org/10.4081/reumatismo.2020.1273
Copyright (c) 2020 the Author(s)
This work is licensed under a Creative Commons Attribution-NonCommercial 4.0 International License.